GOTO Berlin 2018
Developer Conference
Workshops: October 30 // Conference: October 31 to November 2
Why We Organize GOTO
We believe that learning is a life-long process and that's why we create conferences for developers by developers. It's what drives us to produce the best meeting place for innovators and thought leaders.
In 2018 we give you the opportunity to design your own conference: You can choose exactly which days you would like to attend - giving you a flexible ticket rather than a fixed package.
The Conference
GOTO Conference is a software development conference designed for developers, team leads, architects, and project managers and is organized "for developers by developers". As software developers and architects ourselves, we wanted to create a great social and learning experience.
Design Your Own Conference
In 2018 we will be back with 1 day of workshops on October 30, and 3 days of conference from October 31 through November 2.
With 4 days we want you to design your perfect conference program and choose the days you want to attend. You can buy tickets for 1, 2, 3 or 4 days.
Registration will open at the end of April, when our program is ready to be launched and you can choose your preferred days wisely.
Tracks
On the four days of GOTO Berlin we will cover a wide array of trending and cutting-edge topics and technologies.
Topics
Be a Member of the Crew
As a student volunteer at GOTO you get the chance to mingle with the most important humans of our industry!
As a GOTO Berlin student volunteer, you will help us about 12 hours before and during the conference with practical tasks (monitor sessions, info desk helpers and the like), and in return, you will get to attend the conference sessions and social events for free (when you are not on duty).
Register as Crew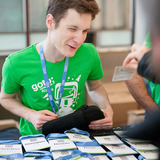 GOTO Berlin is held at the bcc
GOTO Berlin will be back at the bcc, which is conveniently located right at the transport hub and public square Alexanderplatz.
The domed congress hall was built in the 1960s by a Bauhaus-influenced architect of the GDR. After it was renovated and modernised in accordance to regulations of historical monuments, around 50 large-scale conferences take place every year at the bcc.